Inhaled Drug Delivery Systems
11 Feb, 19
Listen
Stop
The world over, most patients with asthma and COPD are now treated with inhaled drugs. Inhaled drug delivery puts the drug where it is needed, whereas oral tablets and syrups must be absorbed in the gastrointestinal tract and need to travel through the bloodstream to various parts of the body before they reach the lungs.
The inhaled route is the most effective method to get the medicine where it is supposed to go - directly to the airways.
The therapeutic effect is rapidly achieved - especially symptom relief with inhaled bronchodilators.
The dose intake is low and a fraction of the oral dose.
The drug present in one salbutamol tablet is 4 mg (i.e. 4000 mcg) while the drug present in salbutamol inhaler is 100 mcg per puff (i.e. 200 mcg/2 puffs). Thus, 20 times less drug is required for desired effect from inhalation route.
Side-effects are minimal since the rest of the body is not exposed to the drug. This is very important, especially when steroid therapy is required.
Chronic respiratory diseases requires long-term treatment, the exceptional safety of inhaled therapy is especially valuable.
In the last few decades, a variety of inhalers have been developed to treat chronic respiratory diseases. They have helped millions of people breathe better and have transformed their lives.
Respiratory care in India has also undergone a dramatic transformation.
Cipla is proud to have facilitated this change by supporting physicians with the latest medications and highly effective inhalation devices.
DPIs, as their name implies, dispense medication as a dry powder formulation without the use of propellants as in MDIs. The drug in a DPI is provided as a micronized powder (particle size 2.5-5 µm) with an inert carrier such as lactose.
DPIs ore breath-activated devices and, unlike the MDIs, do not require co-ordination between actuation and inhalation.
The patient exhales out a full breath, places his/her lips around the mouthpiece, and then quickly breathes in the powder. The technique is different from that of the MDIs.
DPIs are easy to use and as effective as MDIs. Hence, DPI therapy has become increasingly popular in the last few years.
DPIs are of two types: unit-dose and multi-dose. While the rotahaler and revolizer are unit-dose DPIs, the multi-haler contains pre-filled multiple doses of the medication.
Cipla DPIs have been exclusively developed to ensure consistent dose delivery through patient-friendly devices and the right dry powder formulations- Rotacaps and Multi-halers- comprising the actives and a high grade excipient.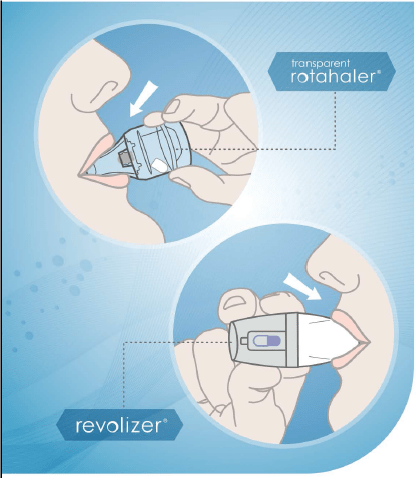 Transparent Rotahaler
For use with Cipla rotacaps only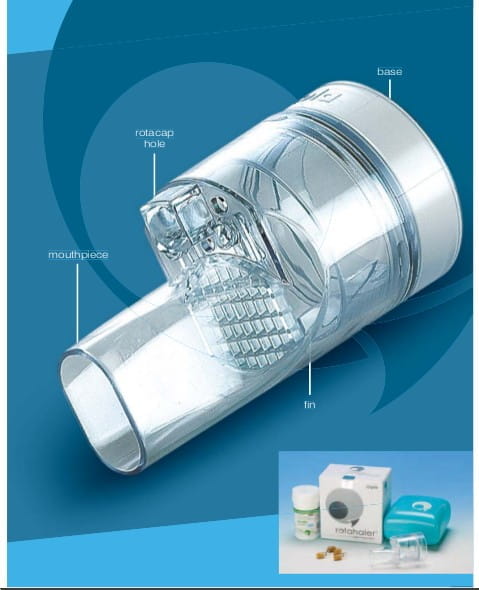 Features
Transparent Design:

Enables the patient to see that the dose has been inhaled
High Efficacy

Ease to use ensures high lung deposition.
Convenience

Easy to carry
Versatility

Single inhalation device for multiple medications
Simplicity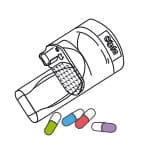 Can be used by patients of all age groups.
Steps for Using Rotahaler ®*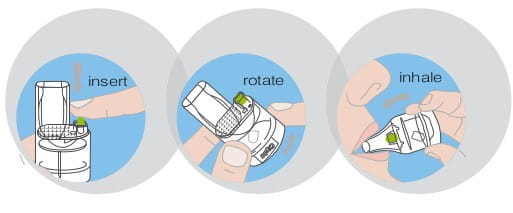 *For more information, please refer to package insert provided with the product pack.
Revolizer
For Use with Cipla Rotacaps Only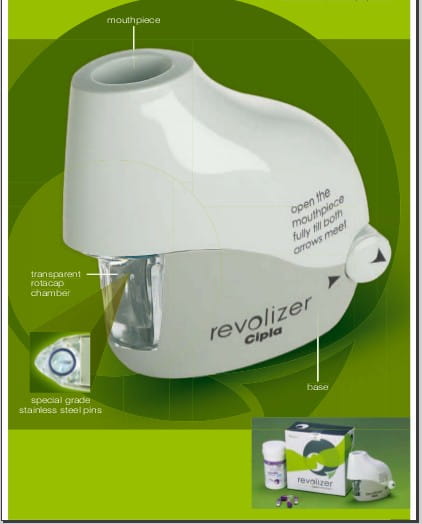 Features
Sleek Design
Ergonomically created to ensure high lung deposition with ease of use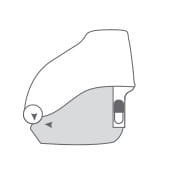 High Efficacy
Higher drug deposition in the lung compared to earlier DPI devices.
Functional even at low inspiratory flow rates.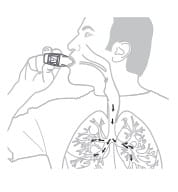 Transparent Medication Chamber
Enables the patient to see that the dose has been inhaled.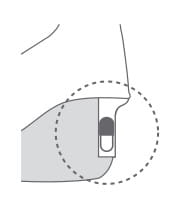 Ease of Use
Can be used by all age groups including patients with severe airway limitation.

Steps for Using Revolizer®*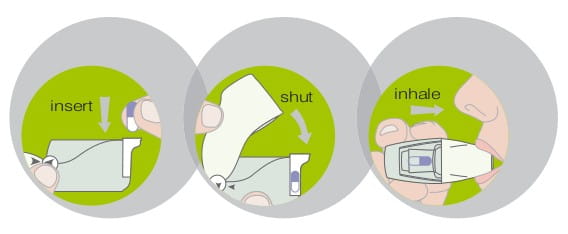 *For more information, please refer to package insert provided with the product pack.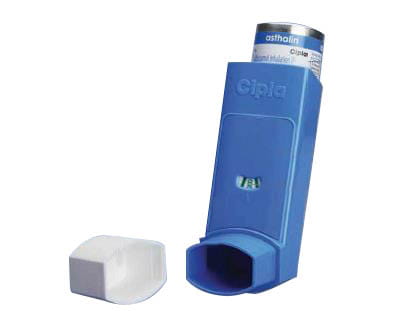 Advantages of MDIs
Most widely used inhalation device.
Compact and portable.
Quick dose delivery-requires no preparation except shaking.
Suitable for all age groups.

Proper use of the MDI requires some practice. Unless the MDI is used correctly, the patient will not get the full dose of the drug and, hence, will not derive the full benefits. Many patients, including children, find it difficult to co-ordinate the actuation and inhalation of the drug released from the MDI. Such patients can benefit immensely by using a spacer attached to the mouthpiece. An MDI +spacer is generally as effective as a nebulizer.
In accordance with the Montreal Protocol (1987), the chlorofluorocarbon (CFC) propellants currently used in aerosol inhalers are being phased out and being replaced with hydrofluoroalkane (HFA).
Steps for Using Metered Dose Inhalers (MDIs)*

*For more information, please refer to package insert provided with the product pack.
Benefits of Dose Counter:
Provides a reliable method for determining the number of doses in the pMDIs and may enhance patient satisfaction, compliance and treatment adherence.
Provides clinician an objective means of assessing patient adherence to medication
Helps to improve the cost effectiveness of asthma management by regulating refill rates and reducing hospital visits and most importantly, a dose tracking mechanism can also eliminate the possibility of sub-therapeutic dosing.
Spacers (sometimes also called holding chambers) are devices that hold the medication for a few seconds after it has been released from the MDI. They serve two main purposes:
They overcome the "co-ordination" problem -the need for synchronization between firing the aerosol and inhalation. This allows the user to obtain the full benefit of the MDI.
They slow down the aerosol spray before it reaches the mouth, thus allowing the propellants to evaporate and larger particles to settle In the spacer. This leads to less deposition in the oropharynx and greater deposition in the lungs.
Decreased oropharyngeal deposition is particularly important for inhaled steroids since this reduces the incidence of oral thrush and also the amount of drug that is swallowed, thereby reducing any systemic side-effects that may occur.
Plastic spacers have an inherent electrostatic charge. This causes the aerosol to stick to the inside of the spacer and therefore, reduces the amount of medication that is inhaled into the lungs. Highly charged spacers have been shown in vitro and in vivo to reduce the output of medications released from the MDIs, thereby compromising the quantity of drug available for inhalation. Static-free spacers resolve this problem and result in a much higher drug deposition and enhance the effectiveness of MDI therapy.
FlowGate Valve Technology in the Zerostat VT Spacer:

Normal Position Opens during Inhalation Closes during exhalation
The valve shuts when the patient exhales into the chamber. This ensures that the residual dose is retained in the spacer for subsequent inhalation.
Functional even at low inspiratory or expiratory flow rates.
Robust and durable.
Easy to clean.
The Zerostat VT spacer ensures that patients receive a high and consistent quantity of medication, dose after dose.
Steps for Using ZerostatVT Spacer*

*For more information, please refer to package insert provided with the product pack.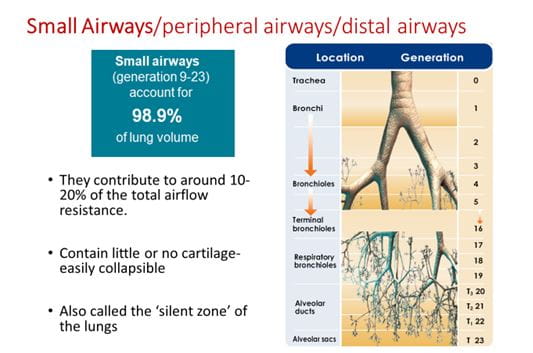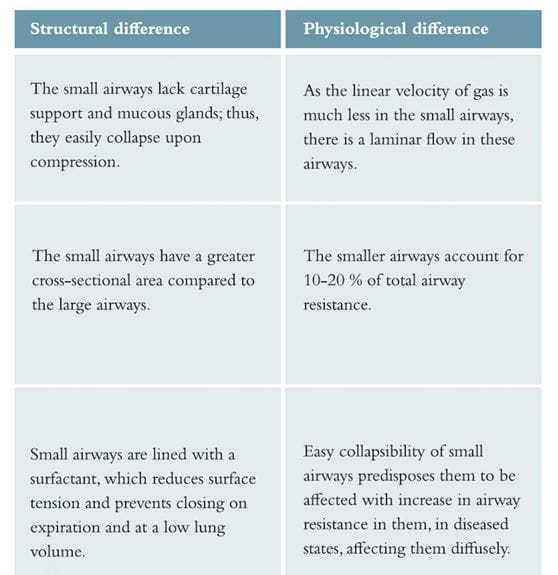 Advantages of Nebulizers
No effort required; needs only tidal breathing.
A large dose of the drug can be administered simply and effectively.
Home treatment for patients who are too il, short of breath, or otherwise unable to use hand-held inhalers.
A very effective method for treating asthma in children below 3 years of age, who cannot use other inhalation devices.
Main Clinical Indications for Nebulizer Therapy
Emergency treatment of acute asthma and COPD.
Long-term treatment of airway diseases in patients unable to use other devices.
Bronchodilator treatment under intensive care.
Delivery of antibiotics in diseases like cystic fibrosis.
Types of Nebulizers
Jet nebulizers are used with air compressor-driven machines called nebulizer compressors and are approved for use with all available nebulizer medications. These are the most widely used type of nebulizers.
Ultrasonic nebulizers use sound waves to burst liquid molecules into mist.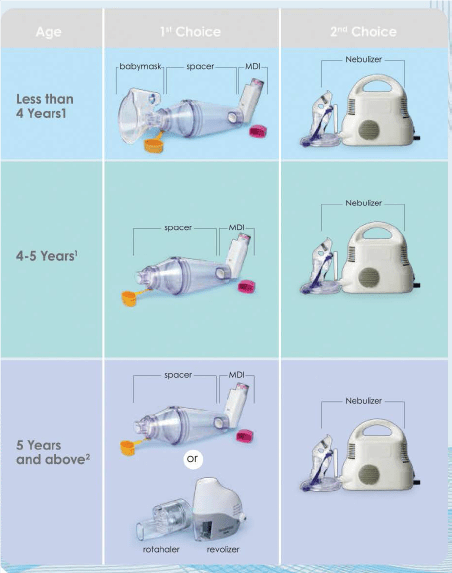 Selected Inhaled Medications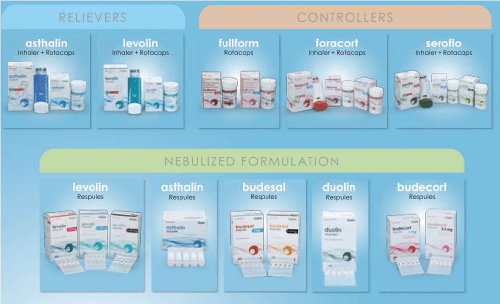 And many more...
For optimum use of inhalers
Choose appropriate device
Educate the patients on correct technique of using inhalation devices
Ensure the maintenance of device as instructed
Replace the device post recommended use
Journal of the Association of Physicians of India. 20I 5; 63: 36-43.
J Thorac Dis. 2012; 4 (3): 298-309
Respiratory Drug Delivery. 2014; (1): 119-130
Data on File. Cipla Ltd.
Eur Resp J. 2011; 37: 1308-1331
2016 GINA Report Global Strategy for Asthma Management and Prevention. http://ginaasthma.org/2016-gina-report-global-strategy-for-asthma-management-and-prevention/ as accessed on 06/12/2016