Suncare Tips
22 Jul, 19
Listen
Stop
Sunlight consists of two types of harmful rays that reach the earth's surface: ultraviolet A (UVA) rays and ultraviolet B (UVB) rays.
UVB rays affect the top layers of the skin and are the primary cause of sunburn.
UVA rays affect the lower layers of the skin and are responsible for the tanning and premature ageing of the skin, causing wrinkles and age spots.
Take the following steps to protect your skin from the harmful effects of sunlight
Seek the shade: Remember that the sun's rays are strongest between 10 am and 2 pm so, during this period, stay in the shade as far as is possible.

Use sunscreen every day: Wear sunscreen every day, whatever the weather or season.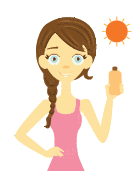 Choose a sunscreen that has a sun protection factor (SPF) of 30 and says 'broad-spectrum' on the label, which means it protects against the sun's UVA and UVB rays.
Apply sunscreen 15 minutes before going outdoors.
When outdoors, re-apply sunscreen every 2 hours. Also, re-apply sunscreen after swimming or after sweating a lot.
Wear protective clothing, such as long-sleeved salwar kameezes or shirts and trousers.

Use an umbrella/wide-brimmed hat to protect your face, hair, ears and neck.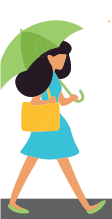 Wear sunglasses with UVA and UVB protection to help prevent damage to the sensitive skin around the eyes, as well as to prevent cataracts.

Extra caution should be taken when near water, snow and sand as they reflect the damaging rays of the sun, which can increase one's chances of sunburn and, thereby, skin damage.