Treatment with Sacubitril/valsartan Associated with Improved Hemodynamic Status in Patients with HFrEF
28 Mar, 22
Listen
Stop
It is a well-established fact that sacubitril/valsartan improves outcomes in patients with heart failure with reduced ejection fraction (HFrEF). Nevertheless, the possible mechanisms underlying this favourable impact has not been explored till date.
To determine the changes in echocardiographically-derived hemodynamic profiles induced by sacubitril/valsartan and their impact on outcome in patients with HFrEF.
HFrEF patients with left ventricular ejection fraction (LVEF) ≤40% within the preceding 6 months (n=727)
Patients were clinically stable, maintained on a stable dose of loop diuretic since at least 2 weeks preceding study initiation
Patients received optimized medical therapy [defined as treatment for ≥6 months on maximum tolerated dose of an angiotensin-converting enzyme (ACE)-Inhibitor or angiotensin receptor antagonists (ARBs) and a beta-blocker, possibly in association with a mineralcorticoid-receptor antagonist (MRA)]
Patients were suitable candidates for on-label sacubitril/valsartan treatment as per standard of care, and were available for repeat echocardiographic examinations 8–12 months later.
Study Design
A multicenter, open-label study
Treatment Strategy
Following a 36-hour washout period, patients were switched from ACE inhibitor to sacubitril/valsartan, starting with a dose of 49/51 mg twice daily or 24/26 mg twice daily and up-titrating to a target dose of 97/103 mg twice daily (except in patients with systolic blood pressure <100 mmHg).
Assessments
A comprehensive echocardiography was performed at baseline (before starting sacubitril/valsartan) and after 12 months.
Estimated LV filling pressure (E/e') and cardiac index (CI, l/min/m2) were combined to determine 4 hemodynamic profiles:

profile-A: Normal-flow/ normal-pressure
Profile-B: Low-flow/normal-pressure
Profile-C: Normal-flow/high-pressure
Profile-D: Low-flow/high-pressure
Outcomes
Changes in the echocardiographic parameters and hemodynamic status
A composite of all-cause mortality and HF-related hospitalizations
By end of the titration period, 35% (n=251), 36% (n=263), and 31.4% (n=213) patients achieved a sacubitril/valsartan dose of 24/26 mg twice daily, 49/51 mg twice daily and 97/103 mg twice daily, respectively.
At follow-up, the left ventricular end systolic volume (LVSV) index, CI, and LVEF increased significantly and the E/ e' ratio decreased significantly in the entire study population (Table 1). There was a progressive change in these magnitudes, with increasing doses of sacubitril/valsartan.
Table 1: Changes in echocardiographic parameters during the study
| | | | |
| --- | --- | --- | --- |
| Echocardiographic parameter | Baseline | End of the study | P value |
| LVSV index | 31.8 | 33.4 | <0.0001 |
| CI (L/min/m2) | 2.17 | 2.23 | 0.0149 |
| LVEF | 29.87 | 33 | < 0.0001 |
| E/ e' ratio | 14.2 | 12.5 | < 0.0001 |
After 12 months, the echo profile improved in 52.3% (n=380) patients, remained unchanged in 38.1% (n=277) patients, and worsened in 9.6% (n=70) patients.
During the study period, there was a significant increase in the incidence of profile-A, a decrease in the incidence of combined profile-B and C, and a decrease in the incidence of profile-D (Fig. 1).
Fig. 1: Change in the incidence of hemodynamic profile during the study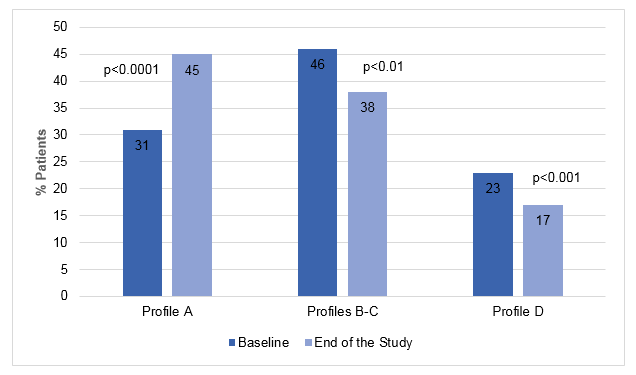 The prevalence of improved profile increased progressively and significantly with increasing dose of sacubitril/valsartan (P < 0.0001). Thus, profile improved in 41% patients taking low dose (24/26 mg twice daily), in 53% patients taking the intermediate dose (49/51 mg BID), and in 65% patients taking high dose (97/103 mg twice daily).
Patients were followed up for 12.6 months after the second echocardiography. Patients with improved profile had a lower incidence of event rate as compared with those in whom hemodynamic profile remained unchanged or worsened (Fig. 2)
Fig. 2: Incidence of event rate after 12 months 2nd echocardiography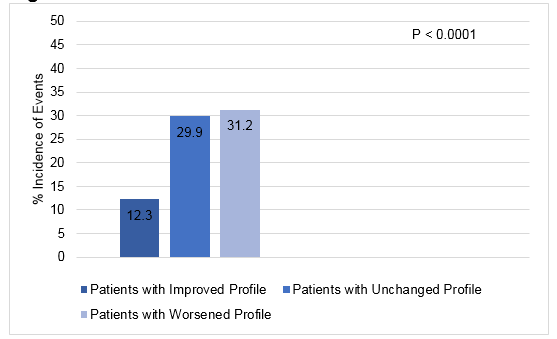 Improved hemodynamic profile was associated with a favourable outcome, independent of LVEF and other covariates (HR 0.65, 95%CI: 0.45–0.95, P < 0.05).
HFrEF patients treated with sacubitril/valsartan had an improvement in the hemodynamic status as assessed by the changes in the echocardiographic parameters.
The magnitude of hemodynamic improvement was dose-dependent with the improvement increasing progressively with increasing dose of sacubitril/valsartan.
Improvement in the hemodynamic status was associated with a decreased incidence of all-cause mortality and HF hospitalization.
Int J Cardiol. 2022;350:62-68.