Cough Stress Tests to Detect Stress Urinary Incontinence in Women with Pelvic Organ Prolapse Before and After Surgery
24 Mar, 20
Listen
Stop
POP is frequently associated with Stress Urinary Incontinence (SUI)
Clinical tests such as Cough Stress Tests (CSTs) are needed for:
o Detecting SUI in patients with Pelvic Organ Prolapse (POP)
o Assessing postoperative success of surgery for POP
To evaluate diagnostic ability of battery of CSTs and understand utility of manoeuvres to improve their yield to detect SUI (even occult) in women with POP.
CSTs were performed in different patient positions & by different prolapse reduction methods with a subjectively full bladder as described in figure below:

Bladder volume was measured as leaked urine volume plus postvoid residue (PVR)
Symptoms of SUI were detected by two validated questionnaires such as the Epidemiology of Prolapse and Incontinence Questionnaire (EPIQ) and the International Consultation on Incontinence Questionnaire?Urinary Incontinence Short Form (ICIQ?UI SF).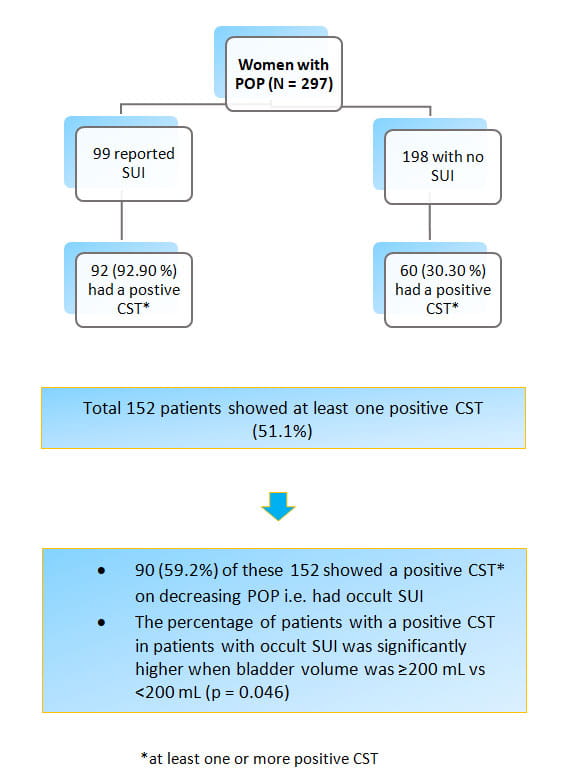 CSTs are useful clinical tools to diagnose SUI due to POP (even occult SUI) as also to assess success of POP surgery
Diagnostic yield of CSTs could be improved by:
o Different patient positions
o Prolapse reduction techniques and
o Bladder volume of ≥ 200 ml (in those without SUI Symptoms).
Neurourol Urodyn. 2020 Feb;39(2):819-25. doi: 10.1002/nau.24288.