Benefits of Initial Combination Therapy of Vildagliptin/Metformin in Asian T2DM Patients
30 Nov, 17
Listen
Stop
Evidence on effectiveness of dual combination therapy in newly diagnosed type-2 diabetes mellitus (T2DM) patients, especially with high baseline glycosylated hemoglobin (HbA1c) and presence of cardiovascular (CV) risk factors is limited.
Initial combiNation therapy with vildagliptin/metformin In drug na?ve T2DM patients In a reAl Life setting (INITIAL) aimed at assessing the effectiveness of initial combination therapy with vildagliptin/ metformin in drug-na?ve T2DM patients. The study also determined the influence of age, obesity and other co-morbidities at baseline on the HbA1c reduction.
Drug-na?ve T2DM patients (n=532) aged at least 18 years with an HbA1c ≥ 7.5% (>8% in India).
Study Design
A multicentre, prospective, observational study conducted in four Asian countries, including India
Treatment Strategy
The combination of vildagliptin/metformin was added in newly diagnosed, drug-na?ve T2DM patients.
Duration
Outcomes
Primary Outcome
Change in HbA1c from baseline to week 24
Secondary Outcomes
Proportion of patients achieving glycaemic target of HbA1c ≤7% at weeks 12 and 24
Change in blood glucose levels and body weight
Overall safety
HbA1c reductions across the subgroups of age, body mass index (BMI) and associated comorbidities
Patients enrolled in this study were relatively young (mean age; 49.6 years), had high HbA1c at diagnosis (mean HbA1c; 9.3%) and were associated with multiple CV risk factors [dyslipidemia (30.1%), hypertension (29.7%), and obesity (20.9%)] at baseline when compared to a western population.
Combination therapy with vildagliptin/metformin resulted in significant reductions in HbA1c from baseline to week 12 and this was sustained till week 24 (Figure 1)
Figure 1: Mean reduction in HbA1c from baseline to week 12 and 24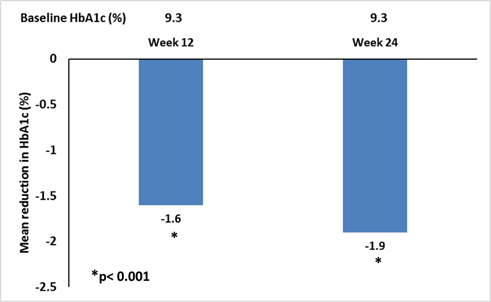 Almost 40% of patients achieved HbA1c ≤7% goal by week 24
Combination therapy also resulted in significant reduction in FPG (50.4 mg/dL) and PPG (81 mg/dL) at 24 weeks
The mean change in body weight was −1.1 kg from baseline to week 24.
Reductions in HbA1c from baseline to week 24 were observed across the subgroups of patients (Figure 2), irrespective of age (<65 years vs. ≥65 years), obesity (<27.5 kg/m2 vs. ≥27.5 kg/m2), or presence of co-morbidities (hypertension and dyslipidaemia).
Figure 2: Mean reduction in HbA1c stratified by subgroups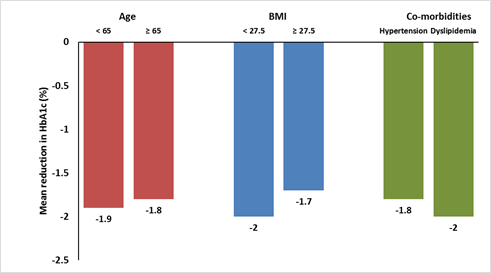 Overall, the combination therapy was well tolerated with a safety profile consistent with that reported in previous studies.
In real-world settings, the combination therapy of vildagliptin/metformin was associated with clinically meaningful and consistent reductions in HbA1c.
This reduction was consistent across the subgroups, regardless of age, BMI, and co-morbidities such as hypertension and dyslipidaemia.
Poster 774; Presented at the 53rd European Association for the Study of Diabetes (EASD) Annual Meeting, 11–15 September 2017, Lisbon, Portugal